The St. Louis Regional Freightway is a dynamic new organization for coordinating freight activity and attracting manufacturing, logistics, and multimodal transportation companies and their service providers to the St. Louis region.
We collaborated with Bi-State Development and various industry voices to create the name "St. Louis Regional Freightway" as a tribute to the City's "Gateway City/to the West" alias.
Freightway Logo Design
Marketing materials for the Freightway's Executive Director feature the new Freightway logo. Our designer's intention is to evoke open-box freight as a focal point, being moved in endless directions. The natural color palette of the logo brings a warm, industrial-inspired element to Freightway's branding. We incorporated these images into early advertising and leave-behind marketing literature full of information about the various aspects of the freight industry in St. Louis. Throughout this development process, we organized regular meetings with the Freightway to present our progress and offer/receive recommendations.
Website Design
St. Louis Regional Freightway's website is a multi-faceted center of information, marketing the St. Louis region as a modern day capital of freight. The site opens with a video slider. We wanted to list the region's modes of transportation and key regional advantages here. From there, we've expanded the site with back-pages featuring key facts, figures, images and textual graphics. Within the Freightway.com, built for optimal SEO response, users will also find a portfolio of detailed real estate profiles, an up-to-date news section and an interactive map of the St. Louis region.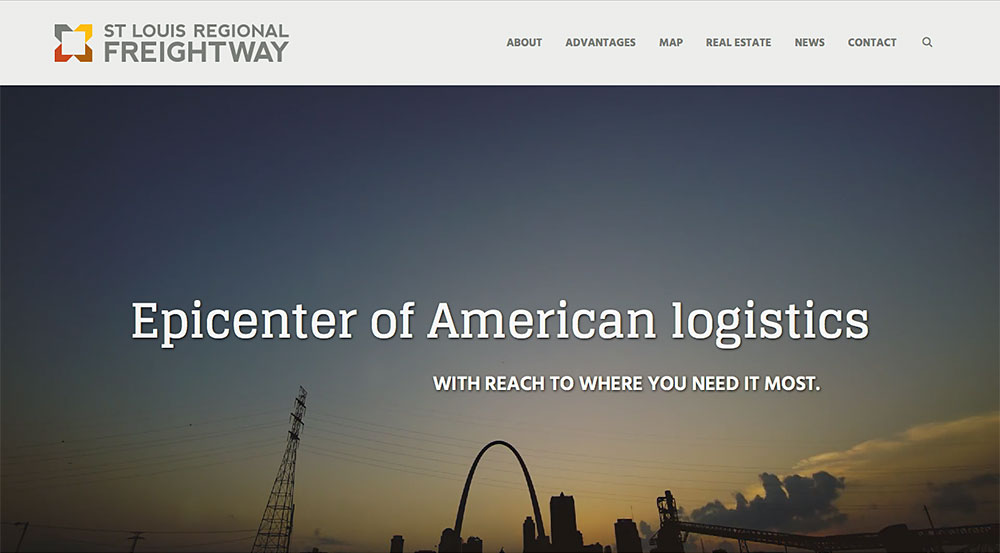 TheFreightway.com's GIS map offers users a hands-on experience for exploring the roads, rivers, runways, rail and real estate of the St. Louis region. The map's responsive interface allows users to filter results, giving them the option of adding or removing any given items. Each labeled item on the map displays a pop-up with spec information. There's also an option to visit the item's expanded back-page within the website.
We continue to collaborate with Bi-State Development to keep its content fresh.